Browsing articles in "Building a brewery"
One of the most common questions we get on the brewery tour is:
What are the steps you took to move from homebrewing to this?
As you might imagine, this is an impossibly complex question to answer. Still, as 2013 wraps up, I'd like to recap what has been the most significant year for us thus far. As our long-time readers are aware (thanks mom!), we used to blog more regularly, chronicling our journey as we opened our own brewery. We still want to do that. The truth is, 2013 has simply been too crazy to sit down for any length of time and collect our thoughts. Lucky for you, I'm feeling sentimental today. Before we get into how to start a brewery, I'd like to recap our year – paying special attention to the most meaningful events in our eyes:
January: Opened our tasting room to the public.
March: Launched 6-packs of Fu Manbrew, Eye Patch Ale, and Drafty Kilt
March: Voted best local brewery at Hawktoberfest
April: Launched Blind Pirate Double IPA
May: Named one of "10 Up-And-Coming Breweries to Watch" in Huffington Post
July: Fu Manbrew wins gold at US Beer Open
October: Named one of 13 of Travel + Leisure's "America's Coolest Breweries"
October: Kicked off Black Tie Series of one-off, high-style beers with Hipster Fresh Hop Harvest Ale
Overall:

Quadrupled monthly production from January – December (from "really tiny" to "a little less tiny")
Grew staff from 3 full-time to 9 full-time and 40 part-timers
Whoa. It's notoriously difficult to survive as a brewery. The margins are slim, competition for taps and shelf space is becoming fierce, and capitalization is key. We entered 2013 with a lot of uncertainty, only knowing that we had to try to make work what we'd been investing our time, money, and efforts in for 6 years. We will enter 2014 with a more defined plan, an ever-growing appreciation for our city and the folks that make Atlanta great, and a desire to produce even better beers in the coming year.
So, what are the steps one takes from homebrewing to starting a brewery? First, one must name each of their fermenters after a Bryan Adams song.
Once you've done that, the rest is easy. All you have to do is…
Raise enough money. But in order to raise enough money, you have to know what you are spending it on. Which means you have to decide what size brewery to invest it, what part of town you want to be in, and what style of beers you want to brew. Which means you have to develop a business plan, with completely naive sales projections, utility costs, ingredient costs, marketing costs, labor costs, keg costs, etc.
Develop your recipes. You can't build a business plan with accurate costs and volume projections without having recipes finalized.
Gain distribution. But in order to gain distribution, you need to understand the distribution laws in your state, talk to distributors, convince distributors that you are going to be the most culturally significant thing since Kanye West, and negotiate contracts. Oh, do you know a lawyer you can convince to work for back rubs and IOU's?
Convince your significant other and family that you aren't crazy. You're on your own here… good luck.
Build out a brewery. You've got to get that thing licensed before you build it out, however. And licensing depends a lot on where your brewery is located, so good luck with that too. Do you have enough cold storage? Dry storage? Room for expansion? Are you going to use silos for grain, either now or in the future? Will you be open to the public at all? Are you prepared to spend money for 9 months without a cent coming in the door?
Sell your beer. Which is harder than you might think. Even if your beer is great, there are more and more good options these days, and if you make the sale, you're usually taking the sale away from another brewery. It's sad, but true.
Repeat. And along the way, relax and have a homebrew.
In all seriousness, it's been an insane, white-knuckled roller-coaster ride so far. But we wouldn't trade it for the world. We love what we do, we love pouring ourselves into a product that enables community. And heck, it's still fun to talk about.
Here's to an even better 2014!
So. Y'all have been buying all the beer we have been brewing. Which is cool, but that means we need to brew more beer. So we bought some more tanks. And for allowing us to supply you with some Monday Night beers, we tank you from the bottom of our heart. Here are a few pictures of our new tanks in construction. They'll be the biggest fermenters and brite tanks we have, at 120bbl's each. Coming in July. ROCKETSHIPS!!!!
Our tasting room didn't start out looking cool and hip. It look a lot of work. We started with a shell of a room, and it took 4 months start to finish. Check out all 4 months of construction in less than 2 minutes, courtesy of OxBlue, leading up to our grand opening. OxBlue, our fine neighbors up the street, specialize in construction cameras and wireless outdoor cameras. Also beer cameras. WOOHOO!
Here's a little preview of one aspect of our tasting room, opening to the public soon. Click the photo for a larger view. And thank YOU for all of the tie donations!
Photo courtesy David Baker
Have you ever wondered exactly what is going on at the brewery? Of course you have, you creeper. See below for an *almost* live feed of the brewery, provided by OxBlue. You will have to manually refresh this page for updated images. This page will also have a permanent home here:
http://mondaynightbrewing.com/brewcam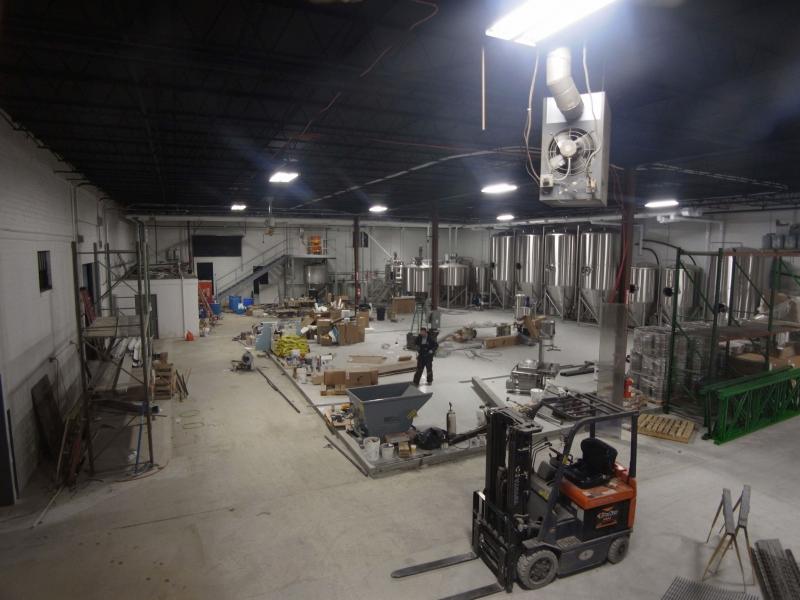 Let me start by saying that the title of this post is deceptive. But we wanted to show you a few pictures of the brewery "in process." Because:
We're excited
We like shiny things
Our 2 blog readers have been begging for pictures
So here you go. The first picture is of the first truck (of 5) loaded down with brewhouse tanks.
Apparently it's important to not drop all of the equipment that you just spent a ton of money on. Regardless, unloading took FOREVER.
Once we unloaded the tanks, we brought them in horizontally. Sidenote: The truck driver took a massive deuce in our toilet and then claimed afterwards that it was clogged before he used it (not pictured).
Next, we stood up all of the tanks. By "we," I mean guys that are smarter than me stood up the tanks.
And now for the fun part! We're doing all of the process piping for the brewhouse this week. For all of you brewery nerds, we ended up going with a 4-vessel 30bbl system from DME, made right here in North America. The boil kettle has a calandria for maximum awesomeness. We are still awaiting the shipment of 4 90bbl fermenters to complement the 2 30bbl fermenters here in-house.
See all of those pipes and valves on the ground? Yeah… we need to put all of those together. Correctly. So leave us alone for a little while.
More to come!